Brian Woo (Exp. '20) and Minh-An Cao '12
Brian Woo, Third-Year Biology Major, and Minh-An Cao '12, Pharmacist, share their thoughts on this year's mentorship experience.
Michele Farmer '94 and Francesca Deprima (Exp. '20)
Second-year student, Francesca Deprima (Exp. '20) and her alumni mentor, Michele Farmer '94, share insight into their incredible mentorship.
After meeting each other at the Alumni Mentor Program kick-off event, Michele and Francesca (Cella) discussed what Cella was looking for in a mentor and what her needs were. They also shared their professional and academic backgrounds, goals and aspirations. According to Michele, "Cella is an outstanding student who is majoring in chemistry and is very interested in personal growth and career development. I knew I was very fortunate to have her as a mentee." […]
Over the past several months during their regular calls, Michele has helped Cella better understand herself and the different paths she could take professionally as a chemistry student. Cella says "Even with our short time together, I feel that we have really bonded as mentor and mentee. She has been working with me to research careers that are possible with a degree in chemistry, as well as the industries that suit my interests and personality."
Michele invited Cella to visit her office and learn more about the careers and journeys of the people that work with her. In addition, Michele connected Cella with a former colleague in the private sector which led to a potential internship opportunity. Looking forward, Cella shares "I am extremely excited to see where our work in the mentor program leads. It has been a completely rewarding experience to have a mentor helping to guide me throughout the journey I am just beginning at UCLA."
Thank you, Michele and Cella, for sharing your mentorship experience!
Christine Company '02, M.A. '05 and Kyle Sample (Exp. '20)
Second-year student and alumni scholar, Kyle Sample (Exp. '20) shares insight into his dedicated mentor, Christine Company '02, M.A. '05.
"Ever since I first met her on Kerckhoff patio on a fall afternoon, she has been more than a mentor to me," Kyle shared. After initially discussing their shared passions for themed entertainment, Christine and Kyle began discussing the history and background of the theme park industry, exploring the different facets of themed entertainment, and clearly defining Kyle's passions and goals for the future. […]
Meeting frequently in person and talking over the phone, Christine and Kyle have formed a strong and productive mentorship. At the beginning of this year, Christine helped Kyle form the first Themed Entertainment Association branch at UCLA, an organization dedicated to helping students explore and network in the themed entertainment industry. "As an innovator, designer, scholar, mentor, role model and friend, I am so blessed to have Christine in my life."
Thank you, Christine, for being a standout alumni mentor!
Antonio Moya '08 and Julia Brock (Exp. '20)
"I absolutely love the program. My mentor Antonio Moya has given me an incredible depth of insight. It was great getting to meet with him in downtown LA to chat over coffee, since he's currently working in New York. The mentorship is going so well that it has inspired me to create my own mentorship program for high school students, and he has been helpful with that as well. It's called Aristotle's Mentorship." - Julia Brock, second year neuroscience major.
[…]
Antonio Moya is mentoring three students this year. He is currently doing his neurology residency at NewYork – Presbyterian Hospital/Weill Cornell Medical Center and earned his bachelor's degree in neuroscience from UCLA in 2008.
Thank you Julia for nominating your mentor, Antonio!
Natasha Shah '94 and Sam Herman (Exp. '19)
"Natasha is always making sure she understands the goals of her mentees, and she does everything possible to help us get there. She helps us by connecting us to the resources we need and checks up on our progress frequently. She is very warm and welcoming; asking her questions is easy because she is happy to answer them.
[…]
Recently, Natasha has set up contacts for me to have conversations over the phone and find out more about the role of a project manager. She is wonderful and is always making sure that her mentees are in contact with the right people to ask questions." - Sam Herman, third year chemistry major.
Natasha Shah is mentoring two students this year. She is the global marketing lead at Amgen and earned a bachelor's degree in chemistry from UCLA in 1994.
Thank you Sam for nominating your mentor, Natasha!
Daniel Baker '09 and Nolan Gunsolley (Exp. '19)
"When Daniel and I first met each other at the kickoff event, we nearly instantly bonded over our mutual admiration for entertainment technology. Then, we really discussed our communication strategy for the year. We knew we wanted to see each other in person frequently, and so every month Daniel, myself, and occasionally my fellow mentee, Kevin, grab dinner and catch up. Sometimes he comes down to Westwood and other times I meet him in Glendale.
[…]
"Earlier this year when I applied for a summer internship at Disney Imagineering, Daniel helped me with my application, talked me through interview points, and even contacted my interviewer to put in a good word.
"He went even further to introduce me to the head researcher of an extraordinary lab here at UCLA which he had worked at and thought I might be interested in. Daniel is everything and more I could ever ask for in a mentor, and with him I've been able to pursue some of my greatest dreams." - Nolan Gunsolley, third year engineering major.
Daniel Baker is mentoring two students this year and has been a dedicated mentor to multiple students in previous years as well. He is a producer at Walt Disney Imagineering and earned a bachelor's degree from the UCLA School of Theater, Film, and Television in 2008.
Thank you Nolan for nominating your mentor, Daniel!
Dolly Klock '93, M.D.
Fourth-year student, Caroline Desler, shared insight into her incredible alumni mentor, Dolly Klock '93, M.D.
"My alumni mentor has already been such an incredible resource for advice, support and great conversation. Even book recommendations as well! She sent me a copy of Carol Dweck's 'Mindset' which explores the importance of adopting a growth mindset in your relationships, career and life in general. […]
She clearly cares about my growth as a person, helping me create a study schedule for the MCAT and reminding me to enjoy all that UCLA has to offer during my final year. I am thrilled to have such an inspirational, supportive and fun mentor!"
Thank you Caroline for sharing your mentorship experience and nominating your mentor, Dolly.
Craig Anthony Rychel '05, Nathan Skadsen and Ty Hopp
Based in Washington, D.C., Craig Anthony Rychel '05 has had a unique mentoring experience. He mentored two UCLA students: Ty Hopp who was studying abroad in South Korea and Nathan Skadsen, who coincidentally, was participating in the UCDC exchange program. Ty and Nathan both requested Craig as their mentor because he was serving as a Foreign Service Officer at the State Department and they were interested in international affairs.
[…]
Ty and Craig exclusively connected through email where they maintained frequent communication and spoke about traveling, applying to grad school, Ty's involvement in the State Department's Virtual Foreign Service Internship program, and upcoming summer plans.
Nathan and Craig started out connecting over email, but through happenstance, Nathan was accepted to the UCDC program and was able to meet with Craig in person. Nathan and Craig saw each other frequently to discuss Nathan's interests, academic papers, and his internship on Capitol Hill, and have spent time at a few D.C. hot spots.
"Although a challenge to maintain relationships through email, it actually has worked out much easier because all of us have such hectic schedules," says Craig, "I'm looking forward to seeing where these two intelligent guys end up."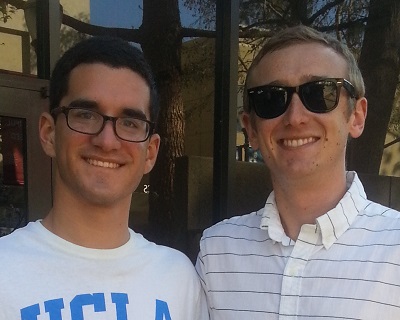 Nick Versaci and John Masline '13
John Masculine '13 describes his favorite moments from the program:
"The highlight of the year for me so far was the time that Nick and I spent running around campus for the UCLA Alumni Mentor Program Scavenger Hunt. It was a great way to have fun, to get to know each other better and to share our passion for UCLA."
When asked about having John as a mentor, Nick had the following to say: […]
"The highlights of the mentorship, for me, have been every time that John and I meet in person. He offers a really helpful perspective on all things UCLA, and he's taught me a lot about important soft skills like dressing and communicating professionally."
John Masline '13 and Nick Versaci were winners of the UCLA Alumni Mentor Program Campus Scavenger Hunt.
Tyler Lanman '14 and Nikki Thareja
Nikki Thareja met Tyler Lanman '14 during a scholarship competition and connected quickly, which is why Nikki requested Tyler as her mentor. They both shared an interest in medicine and community service and managed to build a bond over their love for cooking. Tyler provided Nikki with invaluable advice about her major, classes, research opportunities and extracurricular activities while also reminding her to have fun and enjoy and explore LA!
[…]
When asked about her experience, Nikki had this to say:
"I came into UCLA extremely overwhelmed and nervous and Tyler was one of the first people I connected with. Thanks to him, I feel so much more calm and collected now. He has provided me with a vast amount of advice and support, with everything from reading over my clinical applications to helping me with my research resume. It's always inspirational to talk to him, because whenever I contact him, he's always doing something new, whether it's running half marathons, publishing cookbooks, or getting into medical school! I honestly feel like I aspire to be more and more like him every day and I'm so grateful to have his presence and influence in my life!"
Tyler mentioned that the UCLA Alumni Mentor Program has been a wonderful way for him to remain connected to UCLA's campus while continuing on his legacy through his mentees!
Andrea Wong and Walter Watson, MBA '82
Walter Watson, MBA '82, and Andrea Wong had the opportunity to volunteer in the MLK Jr. Day of Service at Queen Anne Elementary School in Los Angeles as part of the UCLA Alumni Mentor Program. Along with other Bruins, they helped beautify the campus by painting a mural on the playground to inspire children. Watson said, "The mentor activities provide a forum to talk and learn in an environment separated from routine work and school."
Amanda Gunn, Marian Gabra, Ph.D. '10, and Fanny Garcia
Marian H. Gabra, Ph.D. '10, academic counselor with the Academic Advancement Program (AAP), mentored two students: Amanda Gunn and Fanny Garcia.
One of the main reasons why Amanda requested Marian was because Amanda was interested in a career in academic counseling. Marian was able to discuss with Amanda the challenges and rewards of the position, the path towards this type of career, and how to become a competitive candidate for a graduate program in academic counseling. […]
Fanny requested Marian as her mentor as a result of being a student in Marian's Literature and Intensive Writing course during the AAP Transfer Summer Program in 2013. Their connection evolved quite organically. Marian says, "Fanny (was) interested in pursuing a graduate degree in either Creative Writing or English. Since I earned a PhD in Comparative Literature, I have been able to guide Fanny through the research, application, and scholarship process."
Irene Xu and Niloofar Mostofi, M.A. '83
Niloofar Mostofi, M.A. '83 had the following to say about her experience as an alumni mentor:
"Overall I have enjoyed every moment of being a mentor to Irene, giving her feedback/advice on a variety of areas particularly on improving her resume, possible internships areas and career options to consider." […]
Irene describes the benefits of having Niloofar as her mentor:
"Being in the UCLA Alumni Mentor Program has been a tremendously rewarding and fun experience, and has given me the chance to learn about the real-word and get great advice from my mentor."
Ricardo Campos, Jonathan Tiongco '05, and Veronica Shum
Jonathan Tiongco '05 is an educator and business owner. As a mentor to many students, Jonathan sincerely invests in each student individually, participates in many program events, creates engaging opportunities specific to the students' interests and encourages dialogue between the mentees.
One of Jonathan's mentees, Veronica Shum, described her experience as she got ready to graduate and begin working for Teach for America: […]
"I am a graduating senior this year who is joining Teach for America in Baltimore after graduation. However, although I am excited about this opportunity, I had also expressed that I was a little bit nervous when speaking with Jonathan. As a result, Jonathan introduced me to one of his friends, Jeff, (a UCLA alumnus that had been a part of the 2010 Teach for America Corps in Baltimore). I was able to ask Jeff about any extra questions I had about the program and it is because of that interaction that I feel much more confident about moving to the other side of the country. Furthermore, Jeff was even able to connect me to another UCLA alumna who is currently doing Teach for America in LA; giving me the opportunity to shadow her for a day, get my feet wet, and see for myself what I can expect during my next two years."
Gail Strahs, D.D.S. '76 and Angela Navas (Exp. '18)
Fourth-year student, Angela Navas (Exp. '18), shares insights about her incredible alumni mentor, Dr. Gail Strahs, DDS '76.
"My alumni mentor, Dr. Strahs, has been an excellent aid to my own knowledge and understanding of what it takes to be an Oral and Maxillofacial Surgeon. She takes the time to explain her process of consultations and surgeries and answers any questions I may have about a procedure. I've even had the opportunity to learn by shadowing Dr. Strahs during a surgery. […]
Tips I've learned from Dr. Strahs:
Always treat your patients with the max amount of kindness.
Keep exercising so you can continue your passion as long as YOU want.
Take diligent notes on staff/patient communication and your own work.
Look at your patient as a WHOLE and then focus on the reason for their visit, you may just miss an important diagnosis. Thank you, Dr. Strahs!"
Thank you, Angela, for sharing your mentorship experience and expressing your deep appreciation for your alumni mentor.
Linda Havard, MBA '82, and Talia Aranha
When Talia was looking for a mentor, she wanted someone who shared her interests and enjoyed empowering women. "Linda, with her amazing work experience and clear passion for helping young women succeed in finance, was the perfect mentor for me!"
With a special place in her heart for ambitious women leaders, having founded a women's leadership organization in California, Linda was thrilled to serve as Talia's alumni mentor. "Talia exemplifies this with her extra-curricular activities, drive for excellence and maturity."
"My favorite part of the mentorship has been how easy it is to talk to Linda," Talia said.[…]
"Since she lives in San Francisco, most of our conversations have been over the phone - yet she always makes time for me, helps me grow professionally and gain confidence in myself."
It has been a gratifying experience for Linda as well. "I enjoy all of my discussions with Talia, from basic thoughts about career options, to resume help, to assisting in the preparation of summer internship interviews." What surprised both Linda and Talia about their mentorship was the added benefit of developing a friendship and mutual respect for one another.
Linda shared her advice on how to have a successful mentorship. "Keep an open mind and be flexible, in order to take the relationship wherever it might go. Commit to the experience and be sure to make time between conversations to work on goals and next steps." Talia added, "Make the time to listen and be flexible with the advice you are given. Most importantly, use the advice to grow and always communicate clearly so that you can be helped effectively."
Linda is the chief financial officer and principal at Gensler and earned an MBA from UCLA Anderson School of Management in 1982. Talia is a third-year economics major.
Alexa Gonzales and Dara Gelbtuch '04
"Fitting with her determined personality, Alexa proactively reached out to me to express her passion for marketing and business affairs in the music industry. I instantly knew that she was bright, motivated and serious about pursuing a career in music. We have since kept in frequent contact.
"Alexa and I immediately found that we had a lot in common, including both beginning our careers as interns at major record labels. We enjoy talking about all things music, whether artist-, product- or tech-related, as well as pop culture."
[…]
"Alexa always has a smile on her face and is up for meeting anytime, anywhere and with anyone - a key characteristic of a great networker who will undoubtedly be successful in the music industry! She's well on her way to a thriving professional career when she graduates from UCLA this spring. I'm excited to be part of her journey."
Dara Lynne Gelbtuch is mentoring three students (undergraduate and graduate) this year and has been a dedicated mentor to multiple students in previous years as well. She is an attorney at Spotify and earned a bachelor's degree in business music industry (an individually designed major) from UCLA in 2004.
Kristina Doan Strottman '06
Kristina Doan Strottman '06, partner at Burke, Williams & Sorensen, is currently mentoring three students and shares her best advice on mentorship and pursuing a career in law.
Fuad Elkhoury '10, M.D.
Dr. Fuad Elkhoury answers some of our questions about his education, career path and UCLA experience while also sharing his thoughts on mentoring.
Timothy Ford '04
Video game developer Timothy Ford answers some of our questions about his education, career path and UCLA experience while also sharing his thoughts on mentoring.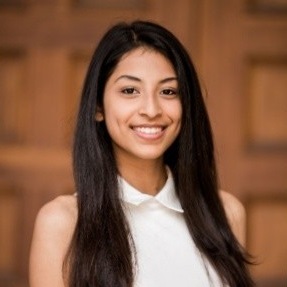 Haripriya Dalmia (Exp. '19)
Alumni mentor Misha Kouzeh UNEX '15 nominated her paired student, Haripriya, by sharing the following insight.
"From the first moment I met Haripriya, I knew that she was an intelligent young woman with a bright future. As a mentor, it is my privilege to guide individuals who have a mission and desire to make a difference in this world. […]
"As a director of UCLA's Chapter for Kids in Nutrition, she has shown to be capable and caring for communities and causes outside of the classroom. Haripriya and I are working on a roadmap to creating her own social enterprise to empower women in India, since her passion is to give back to others who are not as privileged as we are. I am certain that we will succeed in achieving her dreams together. Thank you, UCLA, for the opportunity to match mentors and students who can together create a path to success and make an impact."
Thank you Misha for nominating Haripriya and sharing your mentor experience.
Kristine Albertson (Exp. '19)
Alumni mentor, Jaime Nack '98, M.P.P. '02, nominated her student, Kristine Albertson (Exp. '19). "Kristine shows initiative in everything she does. She makes the most out of being a student, life on campus, and engaging in the industry that she wants to be part of (environmental). She applied for an internship with a LA-based startup called Pulp Pantry and is helping them set environmental goals. On campus, Kristine is part of Bruin Women in Business.
[…]
"She is a committee member and attends weekly meetings that focus on learning more about investment banking and will most likely switch to the consulting committee soon. Additionally, she is on the UCLA club running team."
Kristine shares her appreciation for her mentor, "Jaime has been an exceptional mentor. She has given me insights into the environmental industry and even helped me gain first-hand experience by allowing me to complete a couple of small projects for her company. I look forward to continuing to learn from her!"
Conor O'Brien (Exp. '18)
Alumni mentor, Kate McAllister '17, nominated her student, Conor O'Brien (Exp. '18).
"When I met Conor, I was immediately impressed by his drive, creativity, and initiative – he regularly advances new projects and ideas both on and off campus and is prepping for a career in academia.[…]
"As a Lemelson Anthropological Honors Program Scholar, current participant in the Undergraduate Research Scholars Program, and graduate of the Undergraduate Research Fellows Program, Conor has conducted extensive fieldwork in Cuba on Afro-Cuban religion. He's also served as an editor of the Aleph research journal, contributed to publications like the Daily Bruin, and founded the Modern Ethnography Initiative at UCLA. This May, Conor is producing a photography exhibition showcasing work from students who have conducted research abroad. With just one more quarter until graduation, Conor is more than ready to embark on his career. Conor is an exceptional student and person, and I am thrilled to be mentoring someone who exemplifies what it means to be a Bruin!"