Calendar
You are currently subscribed to this network.
Subscribe
Calendar
Bruin Entertainment Network (BEN)
Previous Events
BEN Panel Series Part 2: Screenwriters - Breaking into the Film Industry, Feb. 2020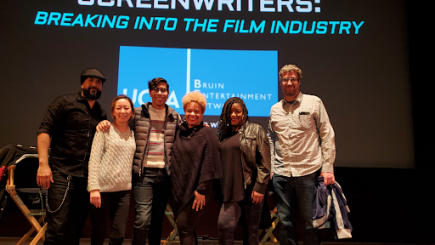 Panelists:
Felischa Marye (13 Reasons Why; Bigger)
Michelle Amor (Tupac Shakur - Before I Wake)
Steven Canals (Pose)
Bo Yeon Kim (Star Trek Discovery; Reign)
BEN Panel Series Part 1: Directors/Producers - Breaking into the Film Industry, November 2019
Panelists:
Gabe Michaels - Web Content Director / Producer
Benjamin Arfmann - Video Game Director / Producer
Jessica Raye - Sports Entertainment Director
Melody Miller - Documentary Director/Producer/Cinematographer
Dallas King - Indie Film Director & Producer
Jerell Rosales - TV Director & Producer
BEN Beach Bash 2019
BEN New Year's Afterparty Casino Night Edition, Jan. 2018

Photo: BEN President, Dallas King, welcomes event participants and their guests to our annual celebration. Festivities included photo booth, casino games, Bruin themed cocktails and plenty of Bruin pride at this yearly event. 
BEN Networking Night and Panel Discussion, Oct. 2017
BEN brings together seasoned casting directors to share their casting philosophies and other industry insights (left to right): Kristel Laiblin, Dana Miller, Mandy Teefey, Julianna Politsky (Legendary's Features Coordinator).
If you have any questions, please contact BENetwork@alumni.ucla.edu
Be sure you are subscribed so you receive invitations to these and all BEN events.