Activities
Arts & Crafts
Instruction for children and adults
Ceramics, pottery, jewelry making
Paper crafts
Lanyard making
Painting classes
Raku and much more
All of the supplies and instructions you need are included for jewelry making, ceramics and other projects. Youth Activities and a variety of instructional classes take place around the property and in our Art & Crafts house.
Sports
Tennis, volleyball, softball, basketball
Tournaments or just-for-fun
Archery
Fitness classes
Fully equipped fitness center
Tennis, badminton, basketball, bocce ball, soccer, volleyball, horseshoes, softball and shuffleboard are all available at Bruin Woods. During the week, you will enjoy camp-wide softball games, adult tennis and volleyball, the all-camp Field Day and lots more. The archery ranges provide instruction in marksmanship and safety.
Swimming
Our solar heated swimming and wading pools are open from early morning until dinnertime for lap swims, children's group swimming, water tournaments, free swim time and aqua-fitness classes. The pool is open one evening for a relaxing, old-fashioned family swim under the clear night sky.
Faculty Lectures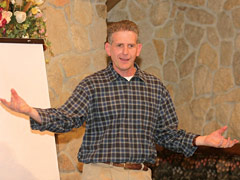 Renowned UCLA faculty
Two faculty members each week
Six different lectures
You have the opportunity to interact with some of UCLA's foremost faculty exploring such topics as computers, art, music, economics, politics, astronomy and human relationships. Each week, two concurrent lecture series provide stimulating choices among six topics.
Field Trips
Hiking
Mountain biking
Sightseeing
Kayaking
During the week, several exciting off-site field trips are offered. You might be offered these activities on any vacation, but here you will participate with friends and the details will be organized by us.
Frontier Village
Authentic Conestoga wagons
Wild west projects, fire pit, tales of the frontier
Learn to use a lariat
Earn a rockin' horseshoe
Magical rain tree
Our Frontier Village is home to two authentic Conestoga wagons that sleep up to ten children each. Enjoy a horseshoe pit, instruction using a lariat, dozens of Western projects including candle dipping and leatherwork, and a toasty fire pit for your every s'more. In all, you will experience a frontier adventure that you will not want to miss.
Fishing
Fishing guides
Six trips daily
Rental of rod, reel & tackle
Pontoons are used for early morning, mid-morning and evening fishing trips for adults and children 2nd grade and older. The catch on almost every trip includes trout and large- and small-mouth bass, and on scheduled days we cook your catch for you. We supply all tackle. You just you bring the luck. Younger kids use poles supplied by us to fish off the docks with mom or dad.
Boating
Bruin Woods owns four boats: two waterskiing boats and two pontoons. Waterskiing is available Monday through Friday. The pontoons are used for shopping trips to the Village, moonlight excursions for teens, sightseeing around the lake and, of course, fishing. Every youth group gets out on the lake at least twice during their stay.
Challenge Course
Dynamic High Course
Static High Course
Climbing wall and team wall
Giant's ladder and more!
The Bear & Grill, etc.
Traditional grill fare
Bruin burgers, fries and wraps
Shakes, smoothies and snacks
Games and sports equipment
At the Bear & Grill, you can purchase between-meal treats and snacks. Bruin Burgers, yogurt, smoothies and ice cream top the list. In accordance with our Bruin Honor Bar tradition, adults enjoy opening and closing cocktail parties throughout the week as well as peaceful "adult time" in our beautiful Lakeview Room.
Evening Programs
Musical productions
Bingo, Speakeasy Night, outdoor movie
Campfire songs
Family talent show
Adult dance and karaoke
During evenings the young and young-at-heart gather for campfires, staff shows, the Family Talent Show, movies, dances, Casino Night entertainment and Bingo. Our traditional opening and closing shows, presented by our talented student staff, are light-hearted, filled with song and dance and fun.
Testimonials
"This was an amazing first year experience. It lived up to all the "hype" we have been hearing about. The entire experience was great for everyone. The property is spectacular and combined with the amazing staff this was a memorable vacation. We will definitely be back!"
Week 2 Guest