Circumnavigation of Iceland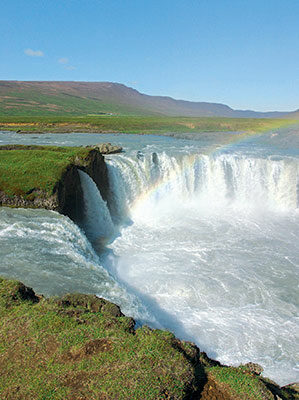 Overview
Reykjavík , Snaefellnes Peninsula, Siglufjordur, Lake Mývatn, Jokulsarlon, Heimaey
Le Bellot
Discover the stunning beauty and distinct culture of Iceland—one of the world's most enchanting destinations—on this specially designed seven-night circumnavigation cruise of this extraordinary Nordic island nation. Cruise aboard the exclusively chartered, Five-Star small ship MV Le Bellot, featuring only 92 Suites and Staterooms. Look for orca, humpback whales and rare migratory birds, see landscapes of ancient Viking ruins and glittering glaciers atop simmering volcanoes, and touch ice fragments calved from one of Europe's largest glaciers. Cross the Arctic Circle on Grímsey Island and cruise along the coast of Surtsey, Earth's youngest island and a UNESCO World Heritage site. Explore the majestic and rocky vista of a former lava lake and marvel at dramatic Goðafoss, the "Waterfall of the Gods."
Cost: From $5,695
Gohagan & Company
Activity Level: Moderate Activity
CANCELLATION FEES: Final payment due at least 95 days prior to departure. Cancellation fees and penalties apply as follows:
PRIOR TO DEPARTURE

96 days or more prior*

95-61 days prior

60-45 days prior

44-0 days prior

FEE

Full refund

50% of program price

75% of program price

100% of program price
*In the event of a cancellation between 45 and 96 days or more prior to departure, the refund will be by credit, usable on a future Gohagan & Company trip which commences on or before December 31, 2023. In addition, for all bookings, any applicable airline cancellation fees, optional excursion cancellation fees and administrative fees may apply.
Book this Tour
STEP 1
Download the tour Reservation Form here. This tour is booked quickly, so sign up early to reserve space.
STEP 2
Enclose a check or provide credit card information for $900 per person, per tour, as a deposit for the selected tour. Make check payable to Gohagan & Company. Deposits are provisional and fully refundable pending your acceptance of final brochure terms.
STEP 3
Fax 310-209-4271, email travel@alumni.ucla.edu, or mail to:
Gohagan & Company
209 South LaSalle Street, Suite 500
Chicago, Illinois 60604-1446
A brochure will be mailed to you as soon as it is available.
Please provide your mailing address so we can send the brochures you request. Note that most brochures are not available until six to ten months prior to departure. If the brochure is not yet available, you will be added to a list and will receive the brochure as soon as it becomes available.