ALESHA UNPINGCO '10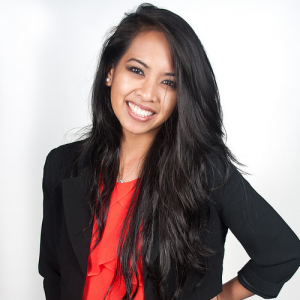 Alesha Unpingco '10 is the UX Lead for AR/VR Partnerships at Google and explores new interaction patterns for both virtual and augmented reality as a user experience designer. Prior to Google AR/VR, she designed interactive experiences for various Google Ads & Commerce tools; led UX work for clients like Honda, Acura, and Intuit at Rubin Postaer and Associates; and applied design thinking methodologies to advance social good in startups, nonprofits, and higher education. Alesha earned a bachelor's degree in English Literature from UCLA in 2010.
---
Interviewed by Monique Beals • July 24, 2018
Please describe your career path from UCLA to your current role.
Throughout my career, I had to find creative ways to develop myself because User Experience (UX) wasn't a widely known field. I was a self-taught designer and prototyper, and I always enjoyed aligning emerging tech with important causes. I started my career with the UCLA Volunteer Center where I had a chance to start that service-oriented department in addition to events like UCLA Volunteer Day and One Bus, One Cause with a team of passionate advisors, staff, and students. Following UCLA, I joined Rubin Postaer and Associates (RPA), a full-service advertising agency where I led UX projects for Honda, Acura, Intuit, including some Super Bowl campaigns. From RPA, I moved on to Google to work on enterprise products. And when virtual reality and augmented reality became more accessible, I dove back into emerging tech to explore the many ways virtual reality (VR) and augmented reality (AR) can impact self-expression, communication, and education.
Now, I'm a UX designer and UX Lead for AR/VR Partnerships at Google. I'm involved in the end-to-end creative problem solving process that ensures that our designs and technology address the needs of real people.
What inspired you to choose this career path?
My dream job as a kid was to be a Disney Imagineer because I loved designing positive and inspiring experiences for people. I've also always been captivated by cause-oriented missions and inspired by individuals who have applied design thinking and creative problem solving skills to solve very challenging problems. Both of these examples creatively combined design, technology, and strategy — and as I developed in my career, I found so many ways in which those core components of UX design are critical whether you're creating a digital experience, influencing the way an event is structured and planned, or using a combination of those attributes to advance social good. I was inspired to choose this specific career path because I get to add structure to ambiguity. I love understanding the bigger picture and thinking through every single aspect of what the UX is for any product we create. And as much as I love design and tech, I know that a person's experience begins before they interact with a screen or a headset. I find it fun to design for those beyond-the-screen moments, as well.
How did your UCLA experience help shape your success?
My UCLA experience really fostered my entrepreneurial spirit and passion for giving back. Some of my favorite memories from UCLA was the work that I did with student and service-oriented groups like Project Literacy (ProLit), the Community Service Commission, and the UCLA Volunteer Center. Whether it is a group that you create or a group that you join, there are so many opportunities to deepen the level of involvement that you have and the professional skills you're looking to develop — with the added bonus of helping someone else. Not only that, UCLA students have wonderful mentors and advisors who are accessible to help them every step of the way. I really loved the advisors I had at UCLA through the Volunteer Center or ProLit. They've remained my mentors (or "friend"-tors) and people I look up to throughout my major milestones in life. I also made some of my closest friends at UCLA who keep me grounded and inspire me to be better.
In what ways have you utilized the UCLA alumni network?
The relationships and connections have been the biggest thing. Many of the friends and mentors that I had at UCLA continue to be important figures in my life today. I see LA as my home and where I am from. I was there for 10 years before moving to the Bay Area. Whenever I travel to LA for work or fun, it's always a pleasure for me to get to reconnect with campus, my friends, and my former coworkers. I've also found excuses and ways to work with previous members from the UCLA family multiple times. I leverage my connections frequently. I'm always trying to connect the dots for people and introduce friends to opportunities that help them advance in the careers they're passionate about.
After graduating, I continued to take courses in emerging tech areas through UCLA Extension. The director of that program was one of my mentors at UCLA. In addition to that, one of the instructors for a course that I took ended up being my boss at RPA. I ended up connecting him to another colleague of mine with whom I'd worked at UCLA, and she joined our team as well. So all my career moves have felt like an extension of that initial family that I found while a student and full-time employee on campus.
How have you been able to blend your passion for service with your current career?
I blend my passion for service with my career in a couple ways. Before I joined the Google AR/VR team, I volunteered with the Google Cardboard Expeditions program as an Expeditions Ambassador with other Googlers. With that program, we were able to use smartphones and cardboard headsets to take the regular 2D content students would see in textbooks and completely blow their minds with a 360-degree photo and video content in VR. I also participate as a high school mentor through iMentor where I get to use my academic, professional, and interpersonal experience to help connect students to opportunities that help them fulfill their academic and career goals. Democratizing education and resources to help individuals achieve their dreams motivates me, and for that reason I also invest heavily in STEAM education and often revisit UCLA to recruit students or partner with departments in order to improve pathways into design and/or technology fields for all majors.
What has been your greatest career challenge and how did you overcome it?
My career path had always been unconventional but very intentional. There wasn't a clear program or major for UX when I was in school, and my interests were always very diverse. I was always passionate about combining design, technology, and business and could never find the perfect program that suited me. I had to be creative in finding experiences that helped me advance the professional skills I wanted to develop and create meaningful work in the process that I could learn from, and I did that through internships, side-hustles, startups, nonprofits, and part-time jobs while I was in school. In an emerging industry where many of the problems are completely unique or new, I've found my unconventional background to be a critical component of the perspective I bring to projects. As a result, I've become very comfortable with ambiguity and finding meaningful ways to measure progress when you're breaking all the rules.
You were an English major at UCLA. How have you used that major in the more tech and design oriented field that you are working in?
When I came to UCLA, I loved the diversity of classes that I took. I came in undeclared and landed on English because I always loved literature, storytelling, and human behavior. Programs like Sociology, Anthropology, and Communication Studies featured courses that explored human behavior and development fit really well with the English major. My English major gave me the freedom to study those interconnected subjects while taking on web and marketing-related internships that helped me remain hands-on with emerging technology.
As a UX designer, it's my responsibility to deeply understand the needs and motivations for my users. As an English major, you're always exposed to many characters with different motivations and unique stories. I'm grateful for the deep analysis and variety of communications, human behavior, and psychology courses that came along with being an English major. I get to use those skills every day to establish interaction guidelines, work with partners, build my teams, and pitch new creative ideas in the emerging technology field.
What advice would you give to UCLA students and alumni interested in your industry?
My industry is constantly evolving, and there aren't really any experts in the field. Everyone is growing with the technology, and the field benefits from diverse thoughts and experiences. In order to be an effective UX designer, you need to know how to work with different people and understand how to empower them to contribute their skills in the best way they can to your projects. You can't be afraid of messing up, and you can't be afraid of feedback. Be relentless and as resourceful as possible about finding academic and professional opportunities that help you grow in the areas most relevant to the career you want to have. If they aren't available or obvious, create those opportunities. Take comfort in knowing that while there are more common pathways into tech, there are many examples of uncommon pathways, as well. Also recognize that many of the jobs that will be available in the future might be for roles or technology that doesn't even exist yet. There isn't a one-size-fits-all solution for success, and that can be very encouraging.f.
How do you participate and support in the UCLA community now?
I donate every year to causes that I'm passionate about. My job also allows me to travel every year to campus to talk to Bruins interested in pursuing careers in UX design, research, content strategy, and more at Google. I like to use my experiences and unconventional past to help students align their academic and work experience with the career paths they're considering. I also recognize that Design | Media Arts seems like the obvious program to target because those students are very focused in pursuing a design career. But that wasn't the program I graduated from, so I take on the responsibility to recognize and identify students in other programs that people don't traditionally think of reaching out to when it comes to building a robust and diverse UX team.
What makes you proud to be a Bruin?
The sense of optimism that students, staff, and faculty have. We are very inventive and action-oriented. When I see different programs like Volunteer Day come out of UCLA, those type of efforts make me really proud. It's something we created from scratch with a lot of passionate advisors, students, volunteers, staff, and faculty who all wanted to make the community better. That's just one example of how engaged UCLA students tend to be. People in the UCLA family have a contagious desire for making the world better and the intention and spirit to follow through.
And finally, what's next?
I'm excited to help shape what immersive computing looks like and finding ways to make this new medium of expression available on every single form factor — mobile, tablet, desktop, headset, and beyond. Because immersive computing is still growing, it's hard to predict what the future will look like. I'm excited to pioneer new interactions with emerging technologies, make these new modes of expression usable and accessible, and also empower creators to easily make content as well.
---
ABOUT THE INTERVIEWER
Monique Beals is a Communications major and UCLA College Honors student from Memphis, Tennessee. She has previously interned at the Office of Senator Lamar Alexander, the Orange County Register, and Tegna Inc. She has also worked as an Urban Fellow for the City of Memphis. At UCLA, Monique has been involved as Marketing Director of the Community Service Commission in addition to working as a Student Recruiting Assistant for UCLA Athletics. After graduating from UCLA, Monique intends to pursue a career in journalism or law.
Interested in learning more about UCLA alumni who are creating lasting impressions and impact in their industries? Visit Excellence in Action for the full collection of interviews.