Christine Cadena '84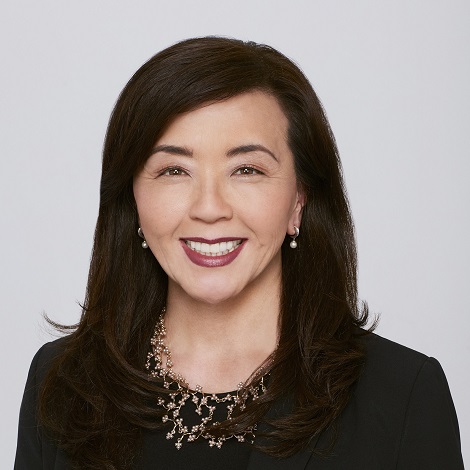 Christine Cadena '84 is Vice President, Multicultural Initiatives at The Walt Disney Company and is responsible for developing and promoting a company-wide multi-year strategic initiative targeting growth amongst the U.S. Hispanic segment. Over the past 25 years, Christine has held progressive roles within Disney, including Merchandising and Product Development, Marketing and Franchise Development, and most recently, leading Multicultural Initiatives for The Walt Disney Studios. Prior to coming to Disney, she began her career as a buyer and product development executive for Nordstrom. A native of Los Angeles, Christine graduated from UCLA with a Bachelor of Arts in Communication Studies.
---
Interviewed by Stephen Mendoza • September 8, 2017
Describe your career path from UCLA to your current role.
My career path has not been linear in any way; it has taken a curved and twisted path but is one that has mirrored my passions and my personal strengths. I started my career working in fashion retail. My first job was as a buyer for Nordstrom. I started there because of my passion for fashion and it ignited my entrepreneurial spirit. I was recruited to Disney to support their budding business, The Disney Store. I worked in that group for about 10 years, developing products, and building a creative team that designed products. From there I moved to The Walt Disney Studios in a role focused on developing movie franchises like Pirates and many others.
My role was focused on maximizing our intellectual properties and supporting the development of merchandise, theme park attractions, games, books, etc. In my current role, as Vice President, Multicultural Initiatives, I help our leaders understand how to better serve our multicultural consumers. It's a role that started from a personal passion, and looks at everything from the content that we create, how we take it to market, and how we engage with our consumer and community to better serve our customers. I'm thrilled that my current diversity and inclusion role leverages my personal passion and the skills and relationships I've developed over my entire career.
What inspired you to choose this career path?
My career has been guided by identifying business opportunities and marrying them with my personal strengths and passions.
How did your UCLA experience help shape your success?
My sister and I were the first in our family to go to college. My experiences at UCLA were not only about academic excellence, but it was about access and exposure to a bigger world. My parents' only aspiration for us was to get a degree and a good job, but UCLA did more than that for me. UCLA exposed me to a different way of thinking and a world that was larger than the one I grew up in.
In what ways have you utilized the UCLA alumni network?
There are alumni from every industry and that has created great opportunity for me to be a part of the UCLA alumni network. Recently; in my current role, we have partnered with Professor Darnell Hunt and Ana-Christina Ramon from The Bunche Center. They developed the "Hollywood Diversity Report" and we were an early supporter and sponsor. The report applies academic discipline to measuring diversity in front of and behind the camera in Hollywood. We're a big advocate for measurement because with it, comes accountability. And accountability helps us with our goal of telling stories that reflect the consumers and communities that we serve.
What has been your greatest career challenge and how did you overcome it?
My greatest career challenges have come as our business has pivoted, with a dynamic marketplace. I think that the key is genuine curiosity and attention to what's happening within the marketplace.
The market is constantly changing, so it's important to be clear about what your strengths are, so you can lean into that change. The only constant is change. There really isn't any standing still, you have to be prepared to grow and evolve in response to industry changes.
What advice would you give to UCLA students and alumni interested in Business / Entertainment?
Be a student of your business, and be curious and committed to its adjacent spaces. Not a student by requirement but a student by passion.
Media and entertainment is not a business for you if you're not passionate about it. I am always blown away when I meet people who tell me they've been making super eight movies from the time they were eight years old. That is passion! While I don't make movies, I am passionate about the businesses that we're in and the brands that I work for. Identify your passion and remember it is really important to be a student your whole life.
How do you support and participate in the UCLA community now?
I recently sat on a panel with Carrie Johnson at the school of communications. I'm really passionate about exposing diverse students to careers in the entertainment business. The diversity of voices in our industry is critical to innovation and telling stories that reflect our audience.
I grew up 10 miles from UCLA and about five miles from Burbank where almost all the studios are based, yet that wasn't an aspiration for me because I didn't understand the opportunity. That is why I'm very passionate about helping diverse students see this as viable career path.
What makes you most proud to be a Bruin?
First of all, the academic excellence and rigor of the institution. Second, UCLA represents an extremely diverse student body and as a state institution; it represents access for students who like me, may not have otherwise had that opportunity. I believe access creates a breeding ground for excellence and innovation and that's why UCLA is such an exceptional place.
What's next?
Our industry is in the midst of transformational change and I believe that this disruption will create an unprecedented opportunity to increase the diversity of the next generation of storytellers. That is my passion point and what I'll be focused on in my next chapter.
---
ABOUT THE INTERVIEWER
Stephen Mendoza earned a Bachelor of Arts in Economics from UCLA in 2018. Prior to joining the Partnership UCLA / Alumni Career Programs team as a student staff member, Stephen had successfully completed internships with Ernst & Young, J.P. Morgan, and Disney. Through the Excellence in Action alumni spotlight series, Stephen expanded his network, met successful business professionals, and shared their advice and life experiences with the greater UCLA community. Stephen is now building his career as a Financial Analyst with Wells Fargo Corporate Banking.
Interested in learning more about UCLA alumni who are creating lasting impressions and impact in their industries? Visit Excellence in Action for the full collection of interviews.