JUSTINE BAILEY '10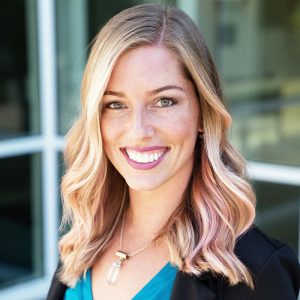 Justine Bailey '10 graduated summa cum laude from UCLA and earned her Cross-Continent MBA at Duke's Fuqua School of Business. She has worked in fitness and wellness, in the nonprofit world fundraising for the Leukemia and Lymphoma Society, and in corporate sales at Oracle. Drawn to the idea of a for-profit company with a strong mission and a conscience, she joined BrainJuice in February 2014. As the first employee, Justine has worn many hats, handling sales, marketing, operations, and product R&D. Starting in 2017, Justine also helped to hire a team to support the company's growth. Her current role is expanding BrainJuice into the Convenience, Foodservice, and Alternative channels.
---
Interviewed by Monique Beals • July 25, 2018
Please describe your career path from UCLA to your current role.
Right after graduating in 2010, I went into the fitness and wellness industry. I completed a yoga teacher training program, went to massage school, and became certified in Reiki, Zumba, and Cycle. Eventually, I hurt my lower back while salsa dancing. It was this experience that made me realize I didn't want my career to depend on my physical ability to perform.
As a result, I got a job with The Leukemia & Lymphoma Society (LLS) and started working in the nonprofit world. I was managing a Team-in-Training team, a campaign in which we'd train people to run marathons, compete in triathlons, and fundraise for LLS. That was a really rewarding job, and I loved my time there. But I also realized that I wanted to combine my interest in social causes with the self-sustaining model of for-profit business. I moved to Austin, Texas, and secured a business development position Oracle to gain experience in the corporate world. At Oracle, I learned how large corporations function. Yet, the excitement of building something from scratch was calling to me. I found my way to the natural products industry completely through serendipity. I happened to meet the founder of BrainJuice, Sam Elick, back in 2013, right before BrainJuice was accepted into the Whole Foods system.
BrainJuice is a nutritional brain supplement made with high quality, non-GMO, all-natural superfoods that help replenish key nutrients in the brain. Drinking BrainJuice results in an immediate mental boost that helps with improved focus, clarity, memory and mood. The founder, Sam Elick, hired me to help sell BrainJuice into all of the stores now that they were in the system.
I started out doing product demonstrations at the five Whole Foods in Austin, as well as the two Central Market stores. About three months later, Sam hired me for a full time Sales and Marketing position. Soon after that, I became the Chief Happiness Officer.
When you're at a startup, you never have one job. You wear about 17 hats and have many different roles. Being Chief Happiness Officer came from the idea that my job was to make sure that all of our important constituents – customers, investors, suppliers, retail partners, present and future employees were happy!
I've grown a lot in this role, and I'm so happy that I found the natural products industry. People are genuinely caring and compassionate, and they want to make a difference in the world. Smaller, emerging, better-for-you brands are changing the landscape of the industry.
What inspired you to choose this career path?
I sort of fell into this path accidentally. But I stayed in the field because of the people and their passion and commitment to health and overall wellness of mind, body, and spirit. People want to do well and feel well in all areas of their lives. They want to find purpose in their work, have meaningful relationships, stay physically healthy, and cultivate spiritual practices which keep them present and connected with family and friends–like the concept of a Renaissance man or woman. The natural products industry represents a culture which is helpful and supportive, especially in Austin, which has become a major hub for natural products. Everybody is collaborative, even with competitors! We go to the same networking events and help each other learn best practices. As better-for-you products gain more mainstream appeal, all ships rise and everyone benefits. I just love that. I haven't seen that in many other industries, so the natural products arena is really unique and special.
What were you involved in as a UCLA student and how did your UCLA experience help shape your success?
Most people at UCLA, from my experience, are involved in several clubs and organizations. I participated in UCLA Mentorship, Ballroom Dance Club, Bruin Democrats, Bruins for Obama, and BD Cares Volunteer Works. I was in Greek Life and my sorority's a capella group. I did Spring Sing in 2009 and 2010. I was an ASK Peer Counselor, along with a few other on-campus jobs, and I did five travel-study programs. I went on Semester at Sea, and I did a summer in Paris and a Fall semester in Bordeaux with a French host family. I also spent a winter in Washington D.C. and a summer in South Africa in 2010 during the World Cup. Somehow I barely squeaked out of there summa cum laude.
I think balancing all of my interests and responsibilities gave me real world practice at wearing many hats at once, and I learned to prioritize according to my values. Those skills are relevant to me now as I balance the demands of working with a quickly-growing startup while maintaining my social life, my family life, and my own current extracurriculars including partner dancing and improv comedy.
In what ways have you utilized the UCLA alumni network?
I received a great education and invaluable leadership skills at UCLA. So, when we are hiring at BrainJuice, UCLA is the first place I look. I have also connected with UCLA alumni groups on LinkedIn and have had students reach out to me. I'm always happy to connect students with people in my network and help them with whatever ways I can.
What has been your greatest career challenge and how did you overcome it?
My greatest career challenge was being President of BrainJuice, while traveling around the world, going to school full-time getting my Cross-Continent MBA at Duke, and raising my baby girl from age 1 to 3 with no family in my state. I overcame it by just waking up everyday, drinking a BrainJuice, doing what had to be done, and then rinse and repeat. All you can do is take it day by day. I also have incredible friends and a super dedicated partner who is an amazing father. He really stepped up taking care of Autumn, our daughter, while I was traveling or studying.
I also carved out time from 6 to 8 p.m. most weeknights to be fully present with my daughter. I'd turn off all electronics and just spend quality time with my family. It really is quality over quantity, and it is important to carve out those moments for family and just be with each other.
What advice would you give to UCLA students and alumni interested in your field?
Find a way to attend Natural Products Expo West in Anaheim in March. Students can reach out to a local brand and volunteer at their booth, or see if they have any extra badges that they are willing to provide. It is the Super Bowl of the natural products industry. Everybody is there. You can meet emerging and established brands; all of the players in the industry are there, and there are many educational talks about how the industry is changing and growing.
I also highly recommend getting a job as a brand ambassador for a company. The hours are flexible and it pays really well, so it is a great job for students trying to break in to the industry. I started out doing demos for BrainJuice.
How do you participate and support in the UCLA community now?
There are alumni volunteer days here in Austin, and I have brought my family to those in order to teach my daughter about the importance of service. I also attend some of the football watch parties. There's a Bruin-owned bar in Austin that always plays the games.
I've also attended Dinner for 12 Strangers events. I loved those events as a student and I still thoroughly enjoy them as an alumna. Those are some of the greatest events that I've ever participated in.
What makes you most proud to be a Bruin?
I'm extremely proud to be a Bruin, because Bruins are "humbitious." They tend to have high IQs, but also a high EQs (emotional intelligence) and DQs (decency quotients). They are smart and ambitious, but humble, and they are compassionate. They do the right thing. UCLA has such bright students and alumni who are truly passionate about making a difference in the world.They aren't content just to succeed in school. They want to change the world, and they are changing the world, so that makes me very proud.
And finally, what's next?
Right now, we are growing so fast at BrainJuice. We've grown from 150 stores in January 2017 to 4,000 stores nationwide in January 2019 with many more on the way. We've also launched new products including a caffeine-free shot, a BrainJuice powder, and BrainJuice Active – a pre-workout version that helps enhance the mind-body connection. My new role is to hopefully expand us into convenience stores and new places like smoothie shops, airports, corporate campuses, university campuses, cafes, and many other places besides grocery stores. Right now, I'm solely focused on growing BrainJuice into an internationally recognized household name associated with increased focus. Eventually, I want to start my own social impact company, and you better believe I'll be hiring Bruins!
---
ABOUT THE INTERVIEWER
Monique Beals is a Communications major and UCLA College Honors student from Memphis, Tennessee. She has previously interned at the Office of Senator Lamar Alexander, the Orange County Register, and Tegna Inc. She has also worked as an Urban Fellow for the City of Memphis. At UCLA, Monique has been involved as Marketing Director of the Community Service Commission in addition to working as a Student Recruiting Assistant for UCLA Athletics. After graduating from UCLA, Monique intends to pursue a career in journalism or law.
Interested in learning more about UCLA alumni who are creating lasting impressions and impact in their industries? Visit Excellence in Action for the full collection of interviews.