A Season of Gratitude
A
t the onset of a new year, resolutions are made, goals are established, and in some cases, specific words are chosen to be the theme for the next 365 days.
Entering his fifth, and final, season at the helm of UCLA's football program, Bruin quarterback Dorian Thompson-Robinson has labeled the upcoming season with one word: Grateful.
"The biggest thing for me this season is to be grateful; to be in the moment," said Thompson-Robinson in a recent interview with the UCLA Alumni Association. "I'm going on my last few months here, so I'm living every day to the best of my ability. Coming out here, loving on my teammates, cherishing the time I have left with this brotherhood, and building it up to be the best that it can be for future classes and for players to have a standard to hold onto and a foundation to build on."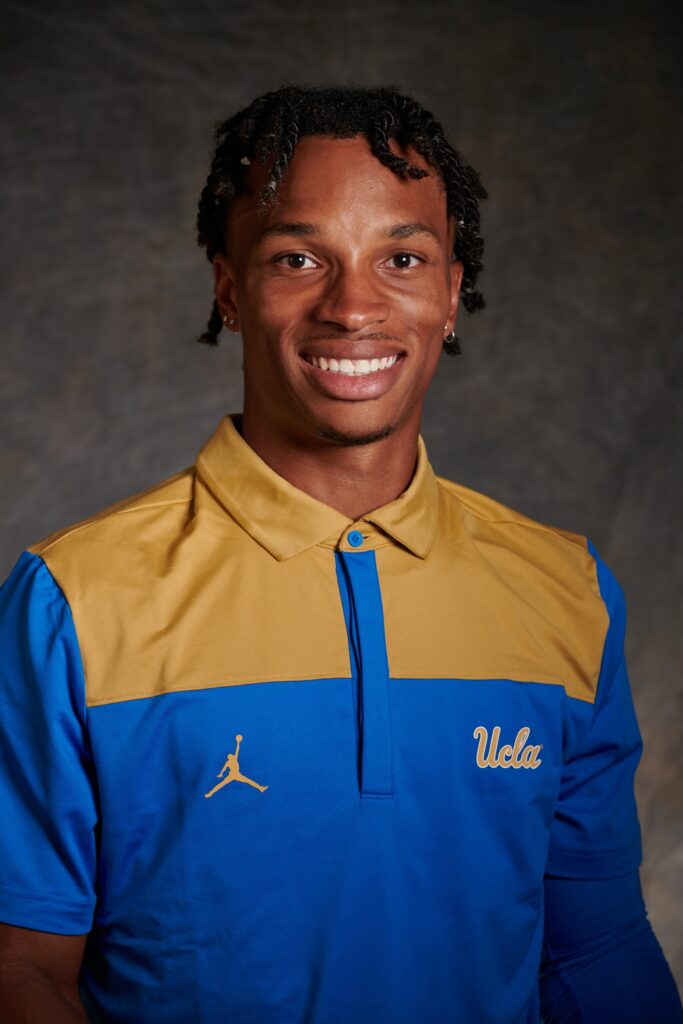 Indeed, for Thompson-Robinson and the Bruins, there is much to be grateful for.
In 2021, Thompson-Robinson started in 11 games and ended the season first in the Pac-12 in passing efficiency (153.94), passing yards/completion (13.69), passing yards per attempt (8.51), points responsible for (182), total offense (274.36), and total offense touchdowns (30). Notably, last season, the second-team All-Pac-12 quarterback was one of three Pac-12 players to claim at least 3,000 yards of total offense (3,018) and finished second in the conference with 21 passing touchdowns.
Collectively, UCLA posted its first winning season in six years by going 8-4 (6-3 Pac-12), tying for second in the Pac-12 South, earned its first bowl game invitation in five years, and led the conference in scoring with 36.5 points per game. The Bruins also enjoyed marquee wins against LSU (38-27) and crosstown rival, USC (62-33).
"I think we did a lot of good things last year, and we've really turned the corner and are finally getting where we want to go. I think team chemistry and team bonding is the biggest thing we are focusing on right now."
That chemistry is also rooted in gratitude. Since the spring of 2020, collegiate athletics has faced its fair share of challenges brought on by the COVID-19 pandemic. For Thompson-Robinson and the UCLA football team, both the pandemic and the shortened 2020 season may have been the catalyst the team needed for its successful 2021 campaign, and hopefully, an even more productive 2022 season.
"Speaking for myself, as well as the rest of my teammates, the uncertainty brought on by the COVID-19 pandemic actually helped our team. The pandemic broke us up just enough to be able to bring us all back together. You don't fix something that's not broken, but you can alter it a little bit to make it even better. Seeing what it's like to be away from each other for so long and seeing what's like being away from football for so long, we began to realize that we've taken it for granted – being around each other and being around football all day, every day. That brought everybody closer together, and it made us a much better organization and program. Also, the way Coach [Chip] Kelly ran the program at that time, and how he kept us safe from the virus and taught us how to do all the little things right was a catalyst to last year's success for sure."
Thompson-Robinson and the Bruins now look to take the momentum, camaraderie and gratitude developed over the last four years and piece together something special in 2022.
"We know we have a pretty good team and a favorable schedule, so right now it's just about putting the work in. And that's the fun part, knowing that you don't have to worry about anything but what you can control. A lot of these players have been here for four or five years with me, so it's like clockwork now."
The Bruins also enjoyed a productive offseason by extending head coach Chip Kelly to a new four-year contract through the 2025 season and bolstering its coaching staff with six new assistant coaches, including Bill McGovern as the squad's new defensive coordinator and naming UCLA Hall of Famer Ken Norton Jr. '99 as the inside linebacker coach. Plus, the Bruins welcomed a slew of talented new student-athletes and currently boast a top-10 ranking in the 247 Sports transfer portal. Finally, in April, UCLA enjoyed the national spotlight as six Bruins were selected in the 2022 NFL Draft, more than any other team in the Pac-12.
"Fans can look forward to watching a really talented team that's going to be very well-coached with a lot of energy. That energy can be reflected in the stands, in the fans and right back on us. I think it's going to be a great time throughout the whole year, not just the first part or the second part of the year. I think this is the year of consistency. Last year we finally got to see what a team that had mostly bought into the coaching staff looks like, and I think this year we'll have full buy-in with everybody."
Should all go according to plan, that consistency is going to help Thompson-Robinson cement himself as one of the elite Bruin quarterbacks in program history. Following his stellar 2021 season, the seasoned signal-caller has moved into the top five at UCLA in career passing yards, total career offense, career completions, career touchdown passes and career quarterback rushing yards. Despite these lofty accomplishments, Thompson-Robinson enters 2022 with a level head and a palpable sense of humility.
"My goal ever since coming to UCLA, and the reason why I wanted to come to UCLA, was to get a ring and a trophy and walk home with some hardware. But obviously, there are a bunch of individual and personal stats and goals that are ahead of me in arms reach. The majority of my goals right now, though, are focused on the team and making sure that I can be the best teammate I can be, as well as get as many wins as possible."
Dorian Thompson-Robinson and the Bruins face an accommodating 2022 schedule that boasts eight home games at the Rose Bowl.
"I'm grateful for the last four years and the opportunity to compete this next year. With COVID-19 and everything that we've been through, there's a lot of gratitude that we all have entering the 2022 season. This team is going to be something very special to watch, and I advise everyone to do so. It's going to be just as fun for the fans as it is going to be for us."
With a talented roster led by a seasoned quarterback, an experienced coaching staff and an extremely favorable schedule, UCLA football fans, too, have plenty to be grateful for.
For more information on UCLA football, including how to purchase season tickets, please visit https://uclabruins.com/sports/football.
---
Recent Articles