Michelle Bennett '99, M.S.W. '01
Years in Peace Corps: 2016-18
Country: China
Region/City: Gansu Province
The opening scene from the classic 80s movie "Dirty Dancing" inspired Michelle Bennett '99, M.S.W. '01, to enlist in the Peace Corps. In the movie, the character Baby Houseman narrates from the future about her younger self, "Before President Kennedy was shot, before the Beatles came — when I couldn't wait to join the Peace Corps."
"The idea of joining the Peace Corps began and ended there," says Bennett, who never thought it would actually be possible.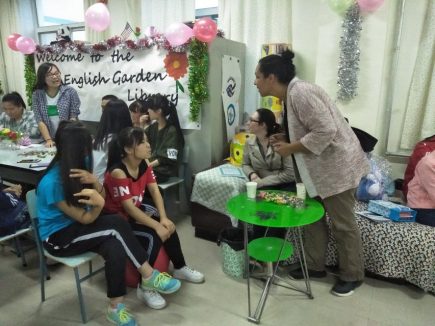 Bennett wasn't ready to join after graduation, but 15 years later, she made her dream a reality. Open to serving anywhere she was needed, her assignment to teach English to medical students in Gansu Province in Northwest China still came as a complete surprise. Gansu's economy is based on mining, and it is among the poorest areas in China. It also attracts tourists visiting a section of the Great Wall.
"The majority of my students were from rural areas, and many were the first in their families to go to college," says Bennett. "It really hit a soft spot because I was also a first-generation college student." She credits these stories about her students' lives outside of the classroom as the most memorable part of her Peace Corps experience.
As a double Bruin, Bennett's academic experience helped her thrive in the Peace Corps. "We talked a lot about self-determination, respecting diversity and ways to put these into practice," says Bennett. "This helped me get through some challenges of adjusting to a new country." One of her most memorable moments in China happened during a long distance bus trip when the bus driver's assistant went out of her way to translate for her. Says Bennett, "I am so grateful for people in China being hospitable and patient with me and my beginner Chinese speaking skills."
After returning to the States, Bennett has a renewed appreciation for her friends and family, and is catching up with American TV shows. She currently works for the Social Security Administration and is committed to trying new things, like listening to classical and Chinese music.