Sold Out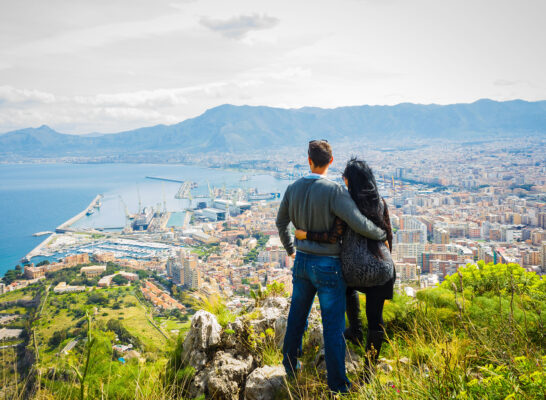 Overview
Palermo, Erice, Agrigento, Caltagirone, Taormina, Syracuse
The Mediterranean's largest island, Sicily is a diverse outpost once ruled by ancient Greeks, the Phoenicians, Arabs, French and Spanish, just to name a few. Immerse yourself in Sicily's myths, legends and tumultuous past while staying in first-class accommodations in three different areas: Palermo, Caltagirone and Taromina. In bustling Palermo, explore ancient landmarks and its liveliest market. See medieval castles in Erice, a Doric temple in Segesta, and Agrigento's Valley of the Temples. Feast your eyes on brilliant Roman mosaics at Villa Romana del Casale and hand-painted majolica ceramics in Caltagirone. Witness awe-inspiring views of the coast in Taormina. In Syracuse, see the well-preserved ancient theater and wind your way through the elegant lanes of Old Town. Have lunch at an olive oil farm, learn how to make Sicilian pizza, and discuss Sicily's agriculture, cuisine and its Mafia legacy with local experts. This eight-night, small-group program features an extensive meal plan and wine with dinner.

Cost: $3,895
AHI Travel
Activity Level: Moderate Activity
Any cancellations made 90 days or more prior to the trip departure date will receive a full refund.
Book this Tour
STEP 1
Download the tour Reservation Form here. This tour is booked quickly, so sign up early to reserve space.
STEP 2
If you wish to pay your $600 per person deposit by check, make check payable to AHI Travel. If you wish to pay your $600 per person deposit by credit card, you will be asked to submit those credit card details after the reservation request form has been received. AHI Travel will contact you to discuss deposit payment within one business day of receiving your reservation request in their office.
STEP 3
Fax 310-209-4271, email travel@alumni.ucla.edu, or mail to:
AHI Travel
International Tower – Suite 600
8550 W. Bryn Mawr Avenue
Chicago, IL 60631
A brochure will be mailed to you as soon as it is available.
Please provide your mailing address so we can send the brochures you request. Note that most brochures are not available until six to ten months prior to departure. If the brochure is not yet available, you will be added to a list and will receive the brochure as soon as it becomes available.