Greece - Athens & Kalamata
Canceled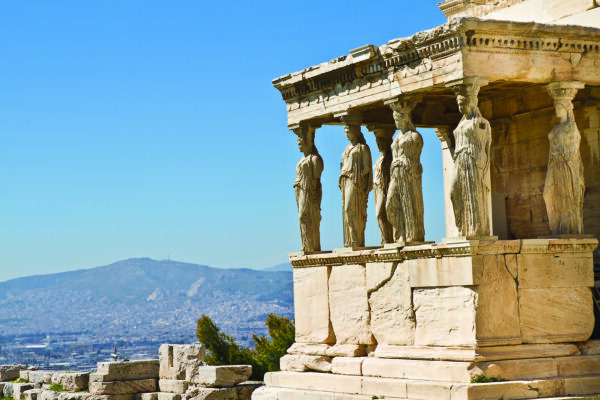 Overview
Mycenae, Kalamata, Messene, Olympia, Mystras, Sparta
Greece's cultural riches, from the glorious remnants of ancient civilizations to a palate-pleasing bounty of wine, olives and seafood, await you on this eight-night journey to Athens and Kalamata! Ascend the Acropolis to admire the Parthenon and sweeping views of Athens. Visit the celebrated birthplace of the ancient Olympic Games at Olympia and explore the fortified Bronze Age citadel of Mycenae. Set off to an under-the-radar gem, the beautifully preserved classical city Messene, and discover a one-of-a-kind treasure, mountainside Mystras, an important center of Byzantine culture. During your stay in seaside Kalamata, enjoy the bustling coastal life plus savor its namesake olives and freshly caught seafood. A wine tasting and a fun-filled dinner with music and dancing complement this well-rounded, small-group experience! You'll also learn about Greek history, from classical to contemporary, during enriching lectures with experts. Includes deluxe and first-class hotels and a generous meal plan with wine at dinner.

Cost: From $3,495
AHI Travel
Activity Level: Moderate Activity
Any cancellations made 90 days or more prior to the trip departure date will receive a full refund.
Book this Tour
STEP 1
Download the tour Reservation Form here. This tour is booked quickly, so sign up early to reserve space.
STEP 2
If you wish to pay your $600 per person deposit by check, make check payable to AHI Travel. If you wish to pay your $600 per person deposit by credit card, you will be asked to submit those credit card details after the reservation request form has been received. AHI Travel will contact you to discuss deposit payment within one business day of receiving your reservation request in their office.
STEP 3
Fax 310-209-4271, email travel@alumni.ucla.edu, or mail to:
AHI Travel
International Tower – Suite 600
8550 W. Bryn Mawr Avenue
Chicago, IL 60631
A brochure will be mailed to you as soon as it is available.
Please provide your mailing address so we can send the brochures you request. Note that most brochures are not available until six to ten months prior to departure. If the brochure is not yet available, you will be added to a list and will receive the brochure as soon as it becomes available.