Almost Sold Out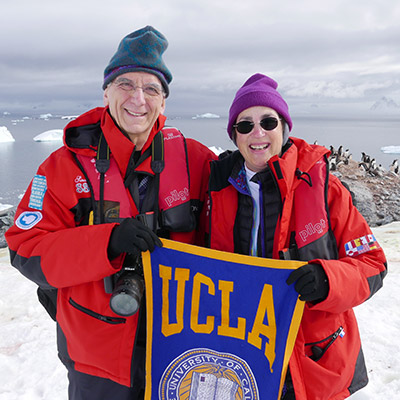 Overview
Buenos Aires, Ushuaia, Antarctica
MS L'Austral
Join us for this spectacular 14-day journey featuring a nine-night exclusively chartered cruise to Antarctica, Earth's last frontier. Cruise aboard the intimate L'Austral, one of the finest vessels in Antarctic waters, combining innovative design with personalized service and featuring private balconies in 95% of the 110 deluxe, ocean-view Suites and Staterooms. Retrace the sea lanes navigated by storied explorers Shackleton, Amundsen and Scott and be among the fortunate few to set foot on the continent of Antarctica. Led by our onboard expedition team of naturalists, enjoy guided excursions aboard sturdy Zodiac craft amid floating ice sculptures, intricate ecosystems and abundant wildlife, including humpback whales, leopard seals and Adélie penguins that exhibit little or no fear of humans. A series of enriching lectures on this pristine wilderness completes your optimal Antarctic expedition. Spend two nights in the Five-Star InterContinental Buenos Aires Hotel, including a tour of Argentina's vibrant capital city. Extend your journey with the exclusive three-night Iguazú Falls Post-Program Option. This unique itinerary is an exceptional value and perennially popular.
Check out this short video from a past Antarctica trip, and see for yourself why this destination is truly a once-in-a-lifetime tour.
Cost: From $9,995
Gohagan & Company
Activity Level: Active
Book this Tour
STEP 1
Download the tour Reservation Form here. This tour is booked quickly, so sign up early to reserve space.
STEP 2
Enclose a check or provide credit card information for $800 per person, per tour, as a deposit for the selected tour. Make check payable to Gohagan & Company. Deposits are provisional and fully refundable pending your acceptance of final brochure terms.
STEP 3
Fax 310-209-4271, email travel@alumni.ucla.edu, or mail to:
Gohagan & Company
209 South LaSalle Street, Suite 500
Chicago, Illinois 60604-1446
A brochure will be mailed to you as soon as it is available.
Please provide your mailing address so we can send the brochures you request. Note that most brochures are not available until six to ten months prior to departure. If the brochure is not yet available, you will be added to a list and will receive the brochure as soon as it becomes available.