Canceled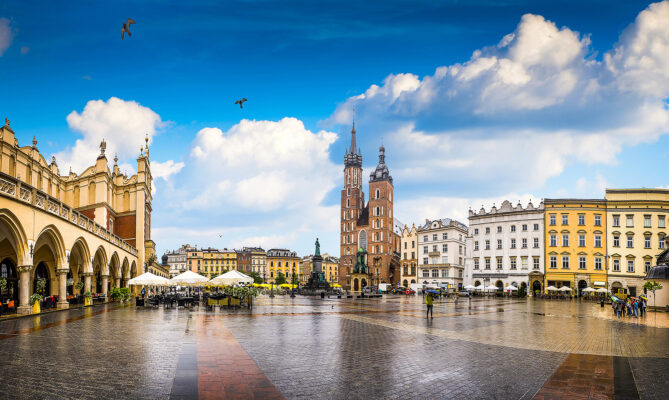 Overview
Kraków , Warsaw, Poznań, Berlin, Dresden, Prague
Explore grand, regal cities rich in culture and compelling history on this exceptional, 11-night journey through Poland, Germany and the Czech Republic. From beautifully conserved old towns to lovingly rebuilt historic centers, admire Central Europe's old-world grandeur in Kraków, Warsaw, Berlin and Prague. You'll also relish visits to colorful Poznań, Poland, and Dresden, Germany, filled with baroque gems. Special highlights include a private Chopin concert, an Elbe River cruise through the picturesque Saxon Alps and a Polish vodka tasting. Learn about significant historical events during educational lectures and guided visits to the Warsaw Uprising Museum and Berlin Wall memorial. In select cities, customize your itinerary. While in Kraków, visit Auschwitz, the former Nazi concentration camp or Nowa Huta, the former Soviet-designed, model Socialist community. In Prague, stroll through the magnificent castle or the atmospheric Jewish quarter. This small-group experience features deluxe, centrally located hotels, a high-speed train from Kraków to Warsaw and a generous meal plan.

Cost: $5,295
AHI Travel
Activity Level: Mild Activity
Any cancellations made 90 days or more prior to the trip departure date will receive a full refund.
Book this Tour
STEP 1
Download the tour Reservation Form here. This tour is booked quickly, so sign up early to reserve space.
STEP 2
If you wish to pay your $600 per person deposit by check, make check payable to AHI Travel. If you wish to pay your $600 per person deposit by credit card, you will be asked to submit those credit card details after the reservation request form has been received. AHI Travel will contact you to discuss deposit payment within one business day of receiving your reservation request in their office.
STEP 3
Fax 310-209-4271, email travel@alumni.ucla.edu, or mail to:
AHI Travel
International Tower – Suite 600
8550 W. Bryn Mawr Avenue
Chicago, IL 60631
A brochure will be mailed to you as soon as it is available.
Please provide your mailing address so we can send the brochures you request. Note that most brochures are not available until six to ten months prior to departure. If the brochure is not yet available, you will be added to a list and will receive the brochure as soon as it becomes available.