D-Day: The Invasion of Normandy and the Liberation of France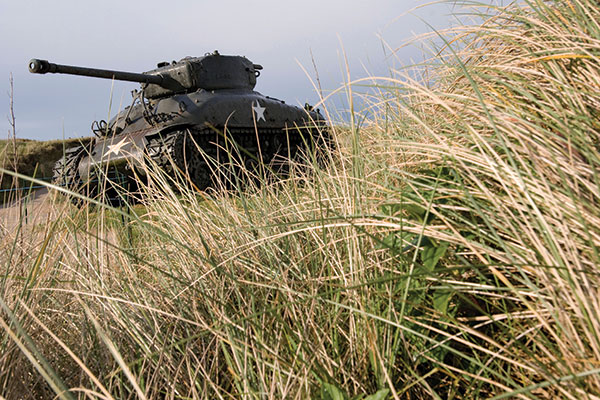 Overview
Normandy Beaches, Arromanches, Ste-Mere-Eglise, Bayeux, Caen, Pointe du Hoc, Falaise
Join us on a seven-day tour visiting the battlefields and walking along the beaches, bridges, and hedgerows that became the backdrop for one of the most written about invasions in history: D-Day.  For more than two and a half years the Allies planned and gathered their military strength to launch the decisive amphibious invasion of northern France to strike a mortal blow against the Third Reich. In the early minutes of June 6, 1944, Allied paratroopers and gliders descended from the night sky to wrest control of key bridges and roadways from the Germans. Behind them in the darkness of early morning, an initial force of over 130,000 servicemen from the Allied nations crossed a choppy English Channel aboard an armada of more than 5,000 ships. Tour Normandy with expert local guides and explore the five invasion beaches, visit Musée Airborne, Utah Beach Museum, Mémorial de Caen, the American Cemetery at Colleville-sur-Mer, and more.  This tour is for both the advanced and amateur historian in search of the most authentic experience of Normandy as it was.
Cost: $4,795
The National WWII Museum
Activity Level: Moderate Activity
Book this Tour
STEP 1
Download the tour Reservation Form here. This tour is booked quickly, so sign up early to reserve space.
STEP 2
Enclose a check or provide credit card information for $1,000 per person, per tour, as a deposit for the selected tour. Make check payable to The National WWII Museum. Deposits are provisional and fully refundable pending your acceptance of final brochure terms.
STEP 3
Fax 310-209-4271, email travel@alumni.ucla.edu, or mail to:
The National WWII Museum Travel
Attn: Cara Becker
945 Magazine Street
New Orleans, LA 70130
A brochure will be mailed to you as soon as it is available.
Please provide your mailing address so we can send the brochures you request. Note that most brochures are not available until six to ten months prior to departure. If the brochure is not yet available, you will be added to a list and will receive the brochure as soon as it becomes available.