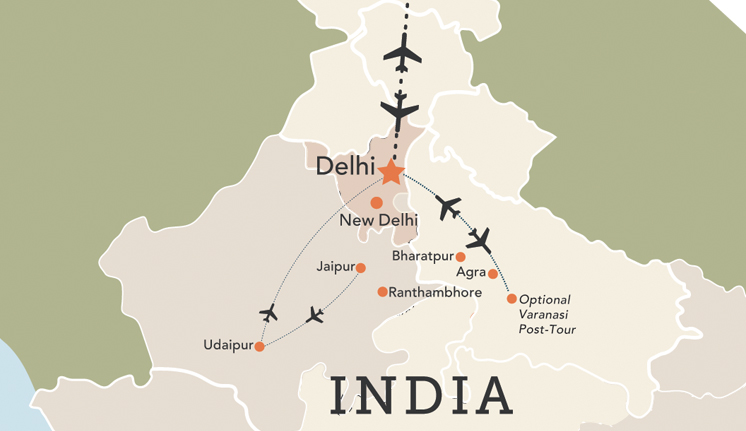 Overview
Delhi, Udaipur, Jaipur, Ranthambhore, Agra, Bharatpur
Join us for a unique immersion into the rich and exotic depths of India's history, traditions, and nature—where thousands of years of civilization, contemporary locals and skilled artisans, and an abundance of intriguing wildlife fuse together on one incredible subcontinent. This multifaceted journey of the Golden Triangle and beyond will transport you through the rise and fall of empires and dynasties while surveying architectural grandeur that reflects the history, culture, and religions of an amazing past. Visit a variety of significant structures with "bucket list" appeal, including the UNESCO World Heritage Sites of Humayun's Tomb, the Taj Mahal, Amer Fort, Agra Fort, and Hawa Mahal. Experience a colorful mosaic of Indian life in this expertly curated adventure with an invigorating rickshaw ride through Delhi, engaging village visits, and special opportunities to meet with artisans to discover their living traditions. Watch the craft of marble inlay, learn how gems are processed into jewelry, and browse handmade goods at various vibrant markets. No in-depth exploration of India would be complete without nature and wildlife. This robust itinerary features a visit to one of the most spectacular water bird sanctuaries in the world—Keoladeo National Park, plus extended time at Ranthambhore National Park for a pulse-racing chance to spot elusive tigers, diverse other wildlife, and endless breathtaking scenery.

Cost: From $6,495
Orbridge
Activity Level: Moderate Activity
Book this Tour
STEP 1
Download the tour Reservation Form here. This tour is booked quickly, so sign up early to reserve space.
STEP 2
Enclose a check or provide credit card information for $850 per person, per tour, as a deposit for the selected tour. Make check payable to Orbridge. Deposits are provisional and fully refundable pending your acceptance of final brochure terms.
STEP 3
Fax 310-209-4271, email travel@alumni.ucla.edu, or mail to:
Orbridge
P.O. Box 1376
Poulsbo, WA 98370
A brochure will be mailed to you as soon as it is available.
Travel Insurance
We strongly recommend you purchase travel insurance to cover the possibility of trip cancellation or interruption, emergency medical evacuation, medical expenses and baggage loss incurred while traveling. All confirmed passengers will receive travel insurance information in your confirmation packet. It's one of our many membership benefits! For information about travel insurance, visit alumni.ucla.edu/travel-insurance. Coverage for pre-existing medical conditions, terrorist incidents and travel supplier financial insolvencies will be provided if the insurance is purchased within 15 days of your trip deposit. Please read the insurance brochure carefully.
Please provide your mailing address so we can send the brochures you request. Note that most brochures are not available until six to ten months prior to departure. If the brochure is not yet available, you will be added to a list and will receive the brochure as soon as it becomes available.