Oregon Shakespeare Festival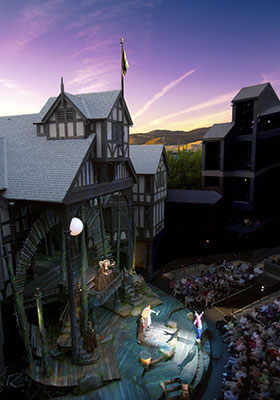 Overview
Ashland
Dear UCLA Alumni and Friends,
We invite you to join our popular Oregon Shakespeare Festival trip in June with Lecturer Stephen Dickey. Venture up to Ashland where this charming town is the perfect backdrop for the award-winning Oregon Shakespeare Festival, a tradition since 1935. While the Bard is their inspiration and anchor, they offer a wide range of classical and modern plays and musicals performed by an outstanding multicultural acting company. We know the theater is a special focus, but there is an exciting and diverse array of offstage activities to see and do during your visit to Ashland such as an optional jet-boating excursion.
Join UCLA Lecturer Stephen Dickey on our 30th trip to the festival that Time magazine named one of the top five regional theaters in the country. Founded in 1935, the Tony Award-winning Oregon Shakespeare Festival is among the oldest and largest professional non-profit theaters in the nation. With specially prepared advance reading lists and in-depth lectures, you will see the theater in a whole new light.
This tour is a special opportunity to have the one-on-one experience with UCLA faculty that our alumni have been raving about. See why this trip regularly elicits comments like this from past Oregon Shakespeare travelers: Ted and Marlene '60, "The whole Bruin Ashland experience is something we look forward to every year. Taking our ninth Shakespeare Festival trip this June!" Miryam Brand "The trip is always very well organized, and with so many highlights."
Join us as we travel to one of our favorite all-time travel destinations. If you have any questions, please call us at 310-206-0613 or email travel@alumni.ucla.edu.
Sincerely,
Suz Park Ramirez '10
Assistant Director, Alumni Travel
Cost: TBA
UCLA Alumni Travel
Activity Level: Mild Activity
Book this Tour
STEP 1
Download the tour Reservation Form here. This tour is booked quickly, so sign up early to reserve space.
STEP 2
Provide credit card information for $500 per person, per tour, as a deposit for the selected tour. Deposits are provisional and fully refundable pending your acceptance of final brochure terms.
STEP 3
Fax 310-209-4271 or email travel@alumni.ucla.edu.
Please provide your mailing address so we can send the brochures you request. Note that most brochures are not available until six to ten months prior to departure. If the brochure is not yet available, you will be added to a list and will receive the brochure as soon as it becomes available.