UCLA History
Aug. 6, 2002
A Miracle Separation
All their young lives, 1-year-old conjoined twins Maria Teresa and Maria de Jesús were only able to see each other with mirrors. But after more than 22 hours of unprecedented surgery at UCLA that would change.
As the world watched through the camera lenses of a throng of international media holding vigil outside UCLA's Mattel Children's Hospital, the largest medical team assembled in the university's history performed a marathon separation surgery so that the Guatemalan girls, born fused at the head, could lead individual lives.
In all, hundreds of doctors, nurses and medical staff of the UCLA Medical Center — many who donated their services — were involved in the twins' care. The surgical team was led by Jorge Lazareff, director of pediatric neurosurgery, and Henry Kawamoto Jr., surgical director of the UCLA Craniofacial Clinic.
Just over 11 hours after the first incision was made, a doctor announced, "They are separated." A brief moment later, Lazareff, emphasizing what had been achieved, added: "You are looking at two children, two little girls. There will be two passports, two boyfriends, two weddings."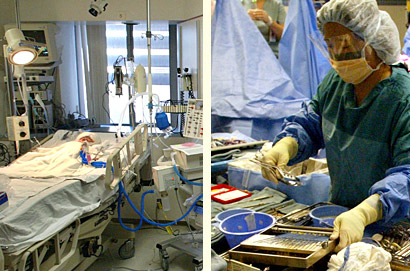 But there was no time for celebration. The meticulously planned and complex surgery was far from over. The painstaking process of reconstruction would now begin. Finally, at 5:40 a.m. on Aug. 6, 2002, the girls were wheeled into the pediatric intensive care unit, where after waking from a week-long sedation, they saw each other for the first time.
Visiting his daughters after the surgery, Wenceslao Quiej López, 21, said, "The future looks very bright." The twins and their mother, Alba Leticia Álvarez, 23, had been flown from Guatemala to UCLA after the charity, Healing the Children, approached Lazareff, one of their volunteer physicians, to take on the procedure.
Doctors said that both girls came out of the surgery with the same chance at life. However, when they went back to their native Guatemala, Maria Teresa contracted E. coli meningitis and has since suffered developmental delays. Maria de Jesús is thriving and attending school. Years later, the twins continue to require significant medical care and physical therapy and live with separate families in Southern California.
Top image: Still recovering weeks after their separation surgery, Maria de Jesús waves while sister Maria Teresa lies next to her. The girls were born as craniopagus twins, joined at the skull - the rarest form of conjoined twins.

Bottom left image: After 22 hours of surgery, the girls were taken to the pediatric intensive care unit where they remained under sedation and slept in separate beds for the first time.

Bottom right image: The medical team assembled was the largest in UCLA's history.