Timeless Tailgaters
Gary '81 and his wife Araceli '90 Bacio, Lauren Bacio, Silvia Bacio and Richard Bacio '79
O
ne of America's greatest pastimes is the college football tailgate party. It's a tradition like no other. The atmosphere is rife with school spirit, the savory smell of food on the grill fills the air, and laughter and music can be heard all around. The Rose Bowl Fun Zone in Lot H has become the gathering place for real Bruin fans, where friends become family, and families pass down a time-honored tradition to succeeding generations. This is where the die-hards come to live it up.
Set against the backdrop of a perfect Southern California day, the highly-anticipated Homecoming game against the Colorado Buffaloes and Coach Prime (Deion Sanders) brought Bruin Nation out in full force. For brothers Richard '79 and Gary '81 Bacio, this has been a family affair dating back to 1965 when their father first brought them to UCLA games at the Los Angeles Memorial Coliseum, when they were only nine and six years old, respectively. Richard recalled that the tailgates started with their parents and their friends, until he and his brother came of age and kept the tradition going, When the Rose Bowl became the home of UCLA Football in 1982, they were able to secure their prime tailgate location next to the Alumni Band, and they became a staple in this tight-knit community. He said, "To put it in perspective, I have not missed a Bruin home game since October 1978, which was my senior year at UCLA." Regardless of the team's record in the standings, you can always expect to find the Bacio brothers, along with their wives, friends and children, spending their fall Saturdays at their favorite spot. "What makes tailgating special to me is all the great people I've met through the years. Most of those lifelong friends I have tailgated with for over 35 years! In fact, we say that we are all 'family.' What we all share, like a family, is our love of UCLA and, specifically, UCLA Football."
Not too far away, at the other end of the row of blue and gold canopies was a large crowd of mixed-age Bruins at the Kappa Sigma Bruins tailgate. Hosted by the fraternity's advisor for the L.A. region, Mark Anderson '80, this tent was alive with energy along with food and a beverage offered to Kappa Sigma members and guests free of charge. The tent hosts anywhere from 25 to 75 people each game, which includes Kappa Sigma alumni, current undergrad members, sometimes their parents and occasionally a sorority from UCLA. Anderson has been tailgating for over 43 years. He started with four people, a few lawn chairs, some tables, snacks and coolers, and later added canopies, flagpoles and a barbecue. They originally set up next to the alumni band to support them and enjoy their spirit and music and have stayed next to them the entire time.
Across the way from the Kappa Sigma tailgate was a row of 10 Bruin tents, each with different decorations, food offerings and cultural makeup. According to Desarie Martinez, host for one of the tents, this was a blended family that's been coming together to tailgate at the same location for over 32 years. They shared food, played games and laughed out loud over drinks. It began with Oscar McCullar and his wife around 35 years ago, and the trail of tailgate tents only grew. Despite many of them not having graduated from UCLA, their love for the school is undeniable. Oscar's 36-year-old grandson, Rich McCullar Jr., has been tailgating with the family since he was four and even sports an intricate tattoo of his grandfather, Oscar, wearing a Rose Bowl shirt on his left arm. His father Rick McCullar summed up their dedication, "It's all about love and family. That's why we come here year after year no matter how the Bruins are doing."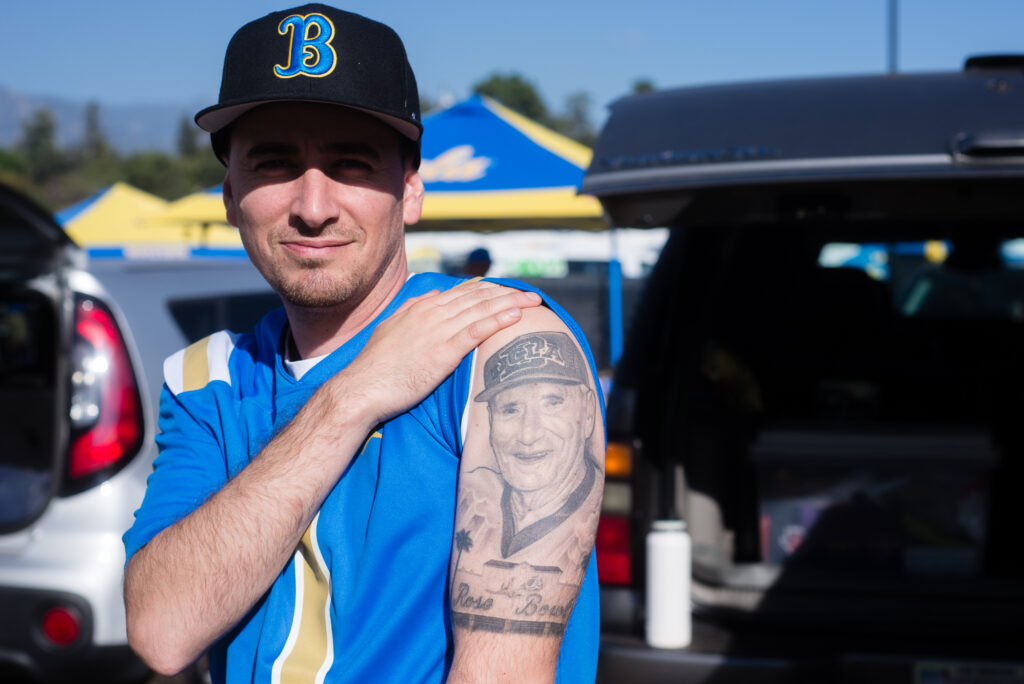 Situated next to the Alumni Band, there's a group of Bruins who specialize in the food served at their tailgates. On this day, they were frying up a pair of steaks on the grill paired with some good wine from Strasburg, France. Other days, depending upon the time of the game, they've served paella, gourmet pizza and tamales for breakfast. Ed Alvarez '70, Anna Magini '74, M.N. '77, Gary Phillips, Cert. '91, and his wife Nancy, have been tailgating since 1988, a tradition that began with Danny Gant who was with the Santa Clarita Bruins. They've traveled to away games, attended tailgates at other schools, and they're convinced there's no better place than the party at the Rose Bowl. Gary said, "You can't beat the weather, the gorgeous mountains in the background, the grass under your feet and the band playing next to you. What's not to love?"
The love for UCLA is apparent at every Rose Bowl tailgate. Generations of Bruins, whether by degree or fandom, showcase the rich diversity of the Bruin community, bringing with them the spirit of friendship and sharing of food and drink and good times. With music blaring, drinks flowing, flat screens showing the day's football highlights, and tailgate games like foosball, cornhole and beer pong underway, these parties are a Bruin tradition like no other.
---
Recent Articles